YourDyno instrumentation kit includes all you need for dyno data acquisition and brake control: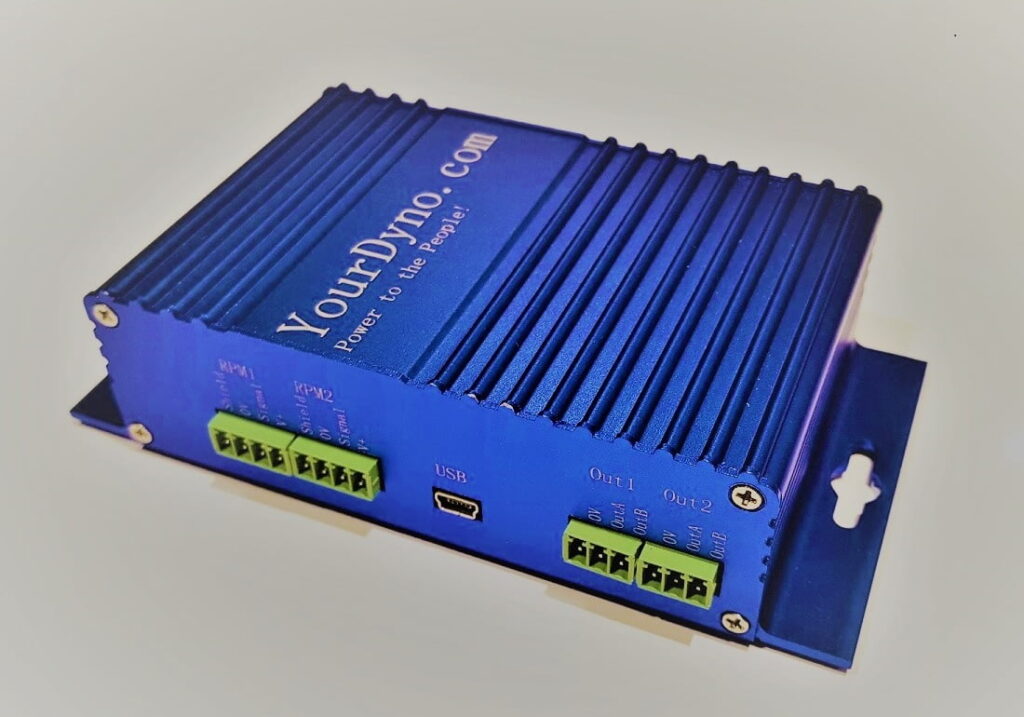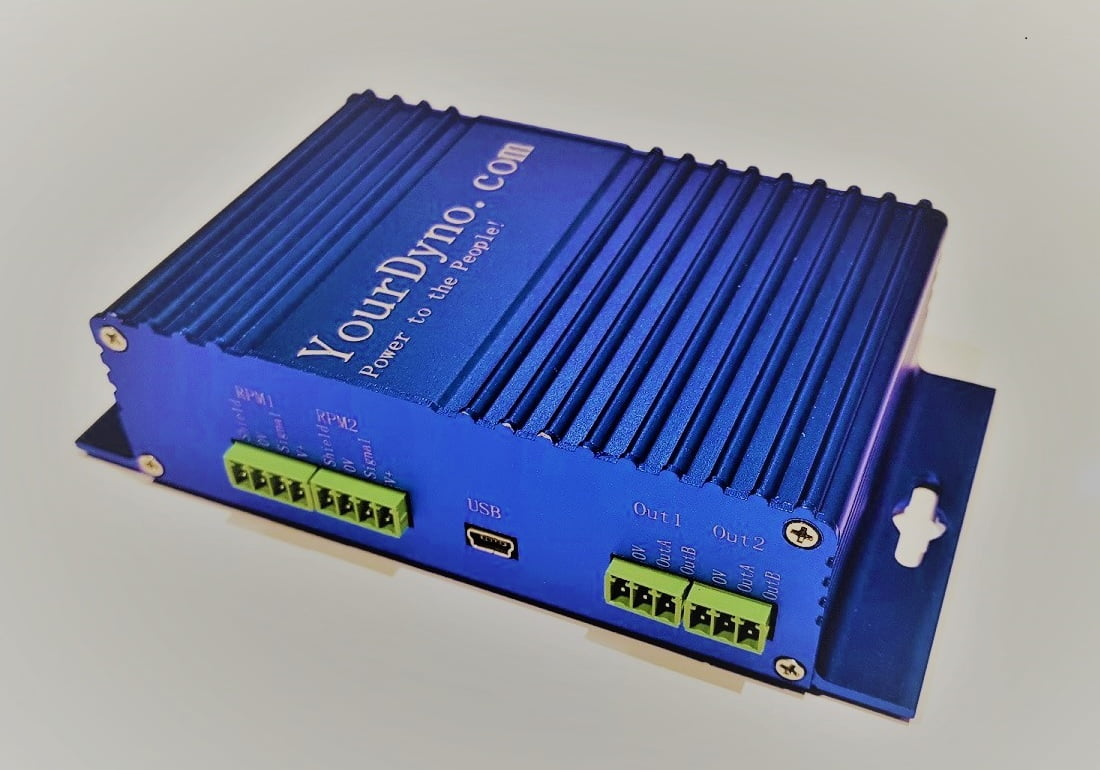 Features:
Data acquisition electronics box with USB interface
Supports inertia dynos, roller based dynos with 1 brake or 2 brakes (4WD or dual brake on one axel), and hub dynos with 2 brakes (2WD)
A setup with 2 boxes supports 4WD hub dynos (4 brakes, 4 load cells and 4 RPM sensors). 
All brake outputs use individual brake controllers (i.e. supports setups with different brakes and different load on front and rear axel)
1 k-type thermocouple input (for engine or exhaust temperature). Can add up to 8 more thermocouples using the CAN Tool plugin. 
3 analog (0V-5V) inputs, for example for Lambda sensors, MAP, boost, etc. Can add more analog channels using the VM167 plugin. 
2 RPM inputs
2 Brake control outputs, each supporting either Pulse width modulation (PWM) and analog  (0-5V) signals. 1 output supporting Stepper motor
Self powered from the USB cable, no external power supply
Supports any analog load cell for brake/absorption dynos. Specify max load when ordering or use your own load cell(s)
YourDyno sells a hall-effect sensor for easy RPM measurements with 3.5m shielded cable. Any digital 0-5V sensor can be used (also encoders). VR sensors are not directly supported, but can be used with an interface board such that it provides a 0-5V digital signal. 
Horsepower correction factor using to SAE J1349 (based on temperature, ambient pressure and humidity from manual entry or from environmental sensors (included)
Support for low cost OBD2 adapters (bluetooth or USB) in the ELM327 series
Support for low cost USB CAN bus adapters 
Support for KMTronic external relays, controlled by buttons or by data channels being over or under a threshold. Use this to for example automatically turn on a fan. 
Easy to use FREE PC software with setup wizards and calibration options
Software supports a plugin system that enables endless opportunities for integrating other sensors. See our plugin library. 
A number of Dyno manufacturers run YourDyno, among them dynoKRAFT. In addition hundreds of dynos are upgraded to YourDyno every year. Take a look the YourDyno reference page and at our YouTube channel, or check out these videos to see YourDyno in action:
Free software
Screenshots from the software below.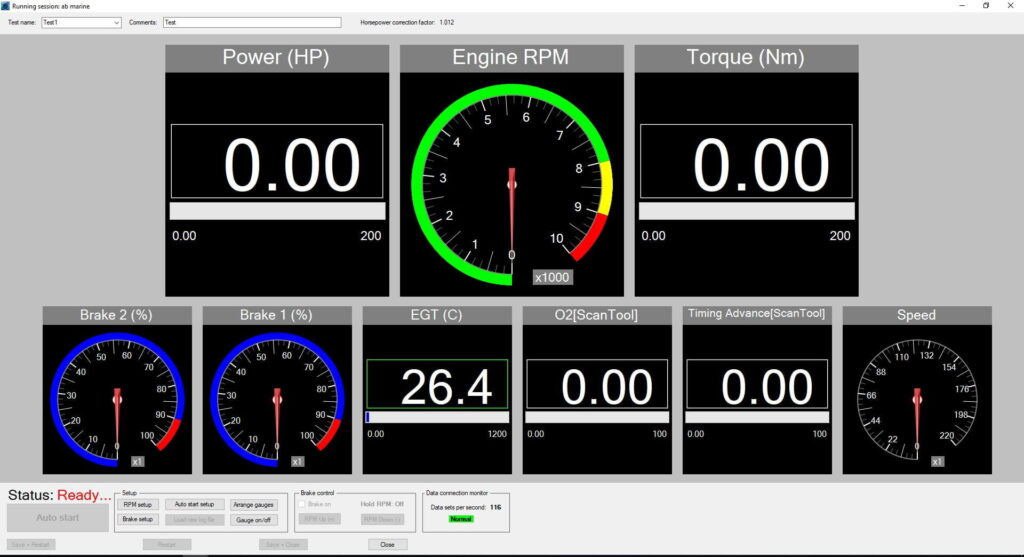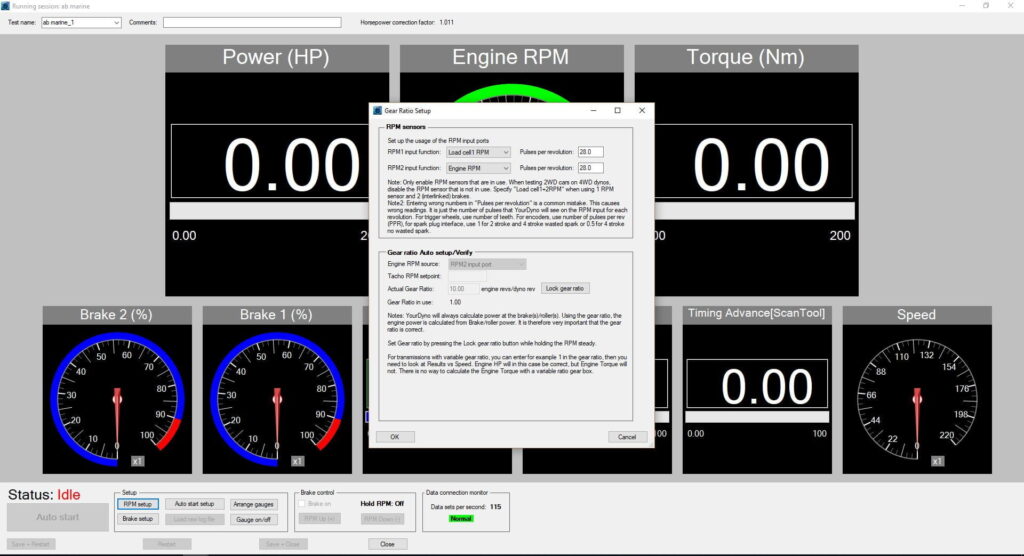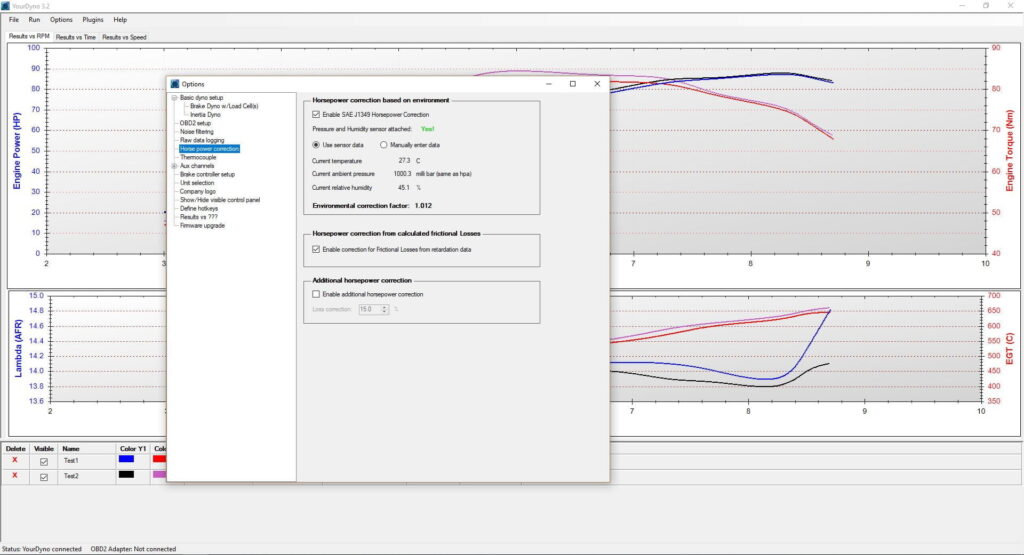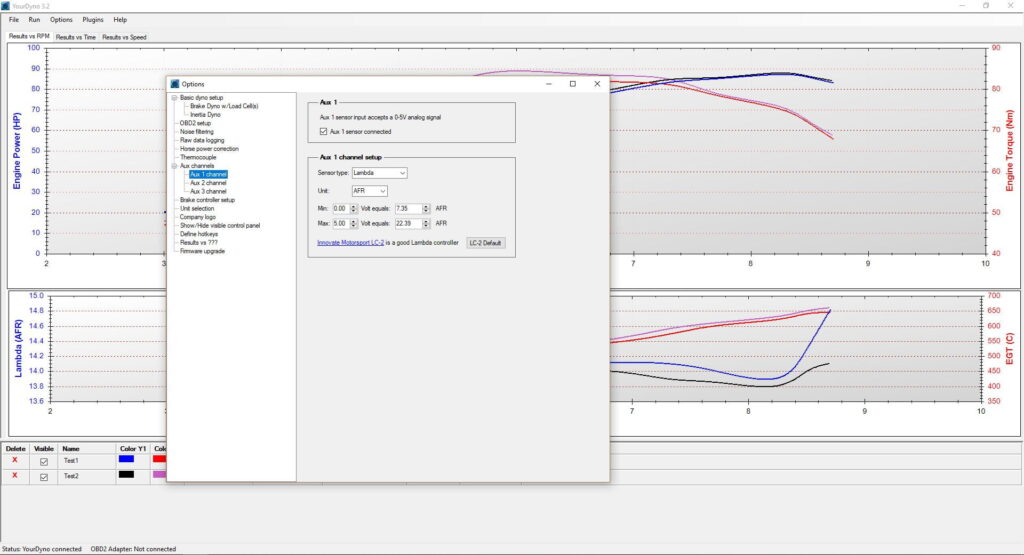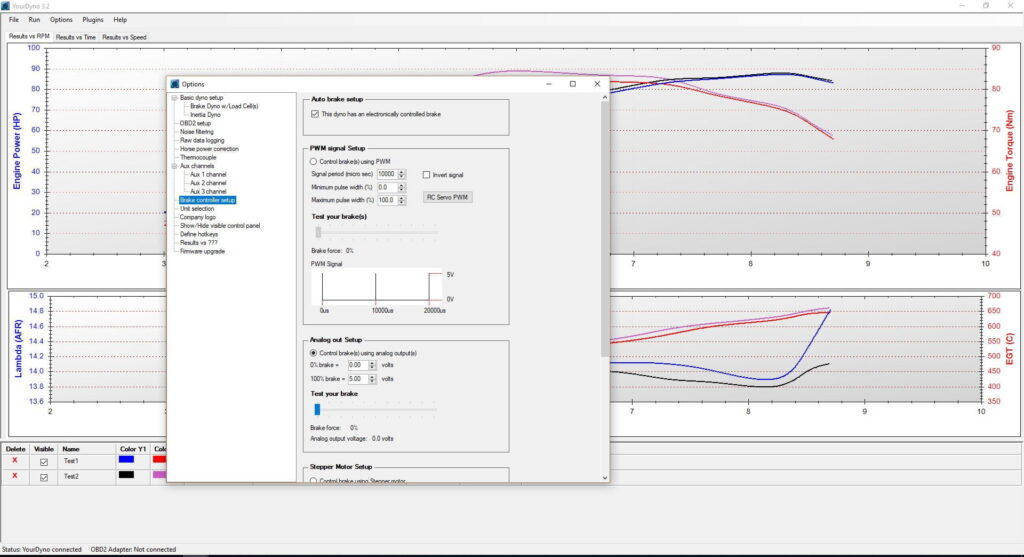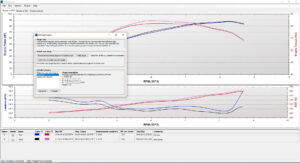 Check our Download page for software, firmware, drivers and an example data file.
Prices:
YourDyno instrumentation kit: $800
Environmental sensors option is included and lets you compensate for environmental conditions
Load cell (choose your size): $100
RPM sensor with cable: $75
You can choose to pay in USD, EUR or NOK. Prices are locked to USD, NOK and EUR prices vary with the exchange rate.
The complete kit including load cells and RPM sensors is normally in stock and will be shipped within a few days.

or ask your questions in our Q&A forum or in a mail to jostein@yourdyno.com
Selecting the right load cell
Calculate the right load cell size here:
Specifications
Very accurate 16 bit AD converter (65536 different measurement levels)
Fast data acquisition (100Hz) on all channels
RPM resolution: 42 nano second
Supports any load cell (specify 10, 20, 50, 100, 200, 500 kg at checkout or use your own)
Controls up to two independent brakes using either:

Analog voltage control (0-5V),
Pulse Width Modulation

Can control 1 brake using:
Connector for K-type thermocouple for exhaust or engine temperature logging. To log temperature buy a suitable thermocouple for example on eBay (search for EGT K-Type thermocouple)
3 Auxiliary sensor inputs (0V-5V analog interface). See instructions on how to connect aux sensors here. Aux inputs can be used for for example Lambda monitoring, boost, temperature, etc.
Optional environmental sensors for automatic horsepower correction based on SAE J1389 (specify at checkout)

Ambient temperature sensor absolute accuracy: 0.5 ºC
Humidity sensor absolute accuracy: +/-3% relative humidity
Ambient pressure sensor absolute accuracy: +/-1hPa (equivalent to the ambient pressure difference of ca +/-10 meter vertical distance)

Support for 2 RPM sensors, 2 brakes and 2 load cells
Supports plugins for expansion of functionality
OBD connection and logging
Easy calibration
World-wide shipping. Invoice and payment by PayPal or Bank transfer (invoice).