Software:
YourDyno software v3.2.29 (Mar 21 2019). This is the newest beta release of YourDyno, which supports plugins and introduces many other improvements. This beta release includes substantial changes to many areas of the code to support the dynamic environment that plugins mean, therefore a Beta is released first so those in a production environment can wait with the upgrade until it has be verified with enough people. Enjoy!
YourDyno software v3.01.83 (Nov 25 2018).
This is the latest released Windows dyno software. To see the software change log and comments go to the following forum post: Latest software version.
Latest firmware is version 1.16. It is automatically updated if you press the "Upgrade to latest firmware" button in Options->Firmware upgrade.
Here is a file you can open to play with the some of the features of the software: DemoRun2.csv. This file can also be opened in Excel (it uses '.' as a decimal point).
USB Driver:
Windows 10 installs the driver automatically. For Windows 7 and Windows 8 you need to manually install the driver.
To install the driver for Windows 7 and 8: Plug the YourDyno box into the computer, Open Device Manager, find "Ports (COM & LPT)". You should see an entry there called USB Serial port or Cypress USBSer or similar. Right-click and choose "Update driver software". Choose the .inf file you download here: Download driver.
For Windows 8 a special procedure needs to be followed before installing the .inf file:
– Hold the shift key while clicking on Restart
– Select Troubleshoot > Advanced Options > Startup Settings > Restart
– After Restart select option 7 (Disable driver signature enforcement)
Now you are ready to install the driver.
Firmware:
Firmware is the software running inside the YourDyno box. With YourDyno software version 3.01.4 and newer, firmware can be upgraded automatically from within the software by the press of a button. The latest firmware version is version 1.18.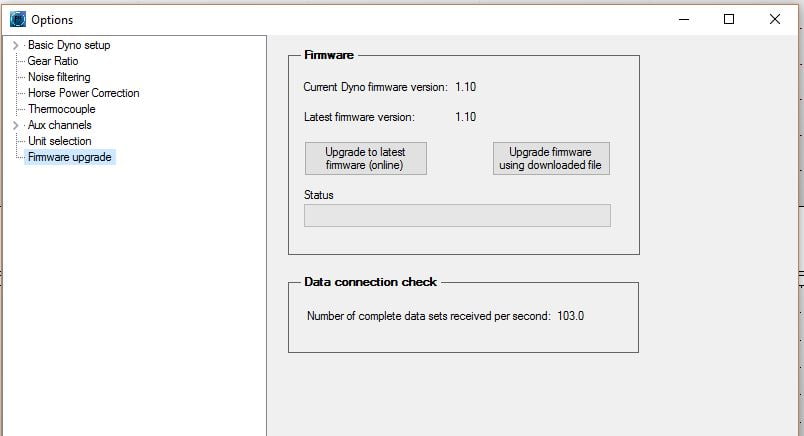 For new YourDyno deliveries, all is set up already from the factory, you can just press the button in the software to upgrade the system when new firmware is available.
For YourDyno hardware version 1 you need to enable this by upgrading the bootloader (only once). You can upgrade the bootloader by downloading this file and the downloader program below. YourDyno v1 Firmware bootloader.
Utilities:
Firmware downloader program (only necessary for very early versions of YourDyno, YourDyno version 1).
Tutorials:
Firmware download tutorial
Check this tutorial before attempting a bootloader upgrade (only necessary once, and only necessary on YourDyno version 1)
How to know which hardware version of YourDyno you have:
YourDyno Version 1, Rev 1 has no marking on the electronics board
YourDyno Version 1, Rev 2 electronics board is marked with Rev 2. You will also see a -rev2 on the current Dyno firmware version (e.g. 1.07-rev2)
YourDyno Version 2 electronics board is marked with: YourDyno v2 RevAB
The first time you upgrade the firmware from within the YourDyno software, the program will ask which hardware version you have. For subsequent downloads it remembers, and you just need to press the button.