[Sticky]

New Software features
Tuners,
I get a lot of requests for new software features. I will update you guys on the things I am working on, and you can add wishes here. Obviously I will not be able to do all of them, but it is good to see which features many people want. 
Bug fixes will normally have the highest priority.
Here are the priorities at the moment (highest pri on top): 
Support for high to low RPM brake sweeps, plus static brake percentage starting point (Done in 3.01.77)
OBD2 support for engine RPM. This will enable automatic gear ratio calculation and slip can be monitored. It will support Bluetooth and USB ELM327 adapters. Bluetooth is very practical here! 
Use of YourDyno's second RPM input as engine RPM input. The input needs be a 0-5V square wave. So either another YourDyno RPM sensor or a digital signal from the ECU or from an adapter of some sort (for example this one)
Improvements to the print functionality, with ability to set size of individual windows plus visual improvements (Done in 3.01.77)
Graph trimming functionality, to remove parts of the curve (typically at the beginning or end of the curve) (Done in 3.01.77)
Group runs into sessions, with gear ratio, brake setup, etc stored per session (done in 3.01.78)
Ability to synchronize both Y-axes so the range is the same (done in 3.01.78)
Option to show Speed instead of RPM
Option to show KW instead of HP
Other horsepower correction factor formulas
Cheers,
Jostein
Posted : 04/08/2018 8:33 pm
please add car wheel speed from roller ratio on measured table, and din 70020 correction, and white background for chart, then we can add our watermark in pdf print, 
best regards 
majkel
Posted : 05/08/2018 12:39 am
I asume the point 3 Will not work for Hub dyno since it use 2 rpm sensors already, does it?
How do Will exact work the point 2 for to get Works bluetooth with yourdyno software?
Also why to have another power hp correction? what about J1349?
Posted : 05/08/2018 2:48 am
Walter, yes you need an RPM input free to connect it to engine RPM. But OBD2 connection will work also for hub dynos. You connect a Bluetooth or USB OBD2 adapter to the OBD2 port, connect to it from YourDyno, and you have the engine RPM from there. So no need to try to match exactly a set RPM and press a button, it will be automatic.
Posted : 05/08/2018 9:22 am
Be careful of what OBD2 adapter you get. Not even the Chinese ones are made equal.
Bad Chinese ones wont sample more then once every 500ms. (if you sample too quickly they send fake info)
Good Chinese ones will do 238ms sample rate. (if you sample too quickly it sends command STOPPED)
Official ELM 2.1 and 2.2 will happily do there advertised 100ms sample rate (10 samples a second)
Posted : 06/08/2018 6:11 am
Hello YourDyno Team.
Firstly, I would like to congratulate you on a brilliant system. Well done! So easy to use is what stands out for me.
My biggest issue is the Graph in RPM Sweep run where you hold the car at a certain RPM and measure power and move on to the next step. The values in-between the RPM steps is not useful and spoils the graph. In the RPM Sweep it would be far better if you record the average value at the specified RPM Step, plot it on the graph (only the average) and let the software draw a line/curve to the next RPM step instead of recording everything.
We can argue that Brake sweep or RPM-Ramp will give us such a graph that I am talking about, but take the exact same car, do all 3 different styles (RPM-Sweep in Steps, RPM-Sweep in Ramp and BRAKE-Sweep and you will end up with quite significant differences in power readings. For me the right way to measure power is RPM Sweep in Steps.
I genuinely like YourDyno and that is why I take the time to write this suggestion, but the graph plotting systems spoil it for me. I can not give such graph to my customers. Please fix this and this would be one of the best value for money systems out there.
Posted : 06/08/2018 1:19 pm
Hi! i was wondering to add a Sync Mode on both brakes during.."rpm ramp" that could be possible?
Posted : 10/08/2018 2:25 am
Idea for another useful feature would be dyno retarder fan control.
Current system im replacing switches the retarder fan on after each run using 3v to trigger relay.
So could it be possible to use 2nd brake output to switch it on after each run or at set load amounts.
Posted : 10/08/2018 4:17 am
Within industrial engine measurement, then the ability to measure fuel flow is high on our wish list.
For diesel we need a combination of 2 fuel flow sensors (supply+return) and plot data together with dyno results, measured in g/kWh.
Posted : 10/08/2018 3:11 pm
Thanks all for inputs/ideas, guys. 
adriaanvanniekerk1, your graph looks like that because: 
You don't run a normal smooth RPM sweep, you run sweep with stops. If you just run a straight line from low to high RPM, the effects will disappear
Your Moment of inertia setting looks wrong (too low). You when you accelerate, some power goes to acceleration and some go to the brake, then when you stop accelerating, more power go to the brake. If your MOI setting is too low, the power shown during acceleration will be too low, but when you stop accelerating that effect disappears, so the curve gets this strange shape. There is a video on how to determine MOI here:  https://www.youtube.com/watch?v=0RVmxpCk0SE&. Note when you run stepped RPM sweeps like this you will never get a completely smooth curve, but setting the MOI correct will improve it. 
So just run a smooth sweep and get the MOI right and you should be good to go!
Cheers,
Jostein
Posted : 12/08/2018 8:49 am
Can I also request show speed instead of RPM to bump its priority up the todo list.
Calibrating speedos is another thing we do quite a bit with our old dyno software.
For the time bearing any one have any sort of idea how to get a idea of the speed.
Im guessing if you use the gear ratio as the rollers size then rpm could give you a easy to convert to speed number.
Posted : 13/08/2018 4:05 am
Yes, speed instead of RPM is on the list!
Posted : 13/08/2018 11:09 pm
It would be nice to have more control over the print out graphs.
Being able to move the devider between Aux and Power graphs would be very useful since the power/torque are more important to people so should be taking more space on the print out.
Also having the Yourdyno branding on each graph is a bit over kill. It only really need to be on the page once. Same with the RPM legend.
Here is a example of how I would want to print out pages.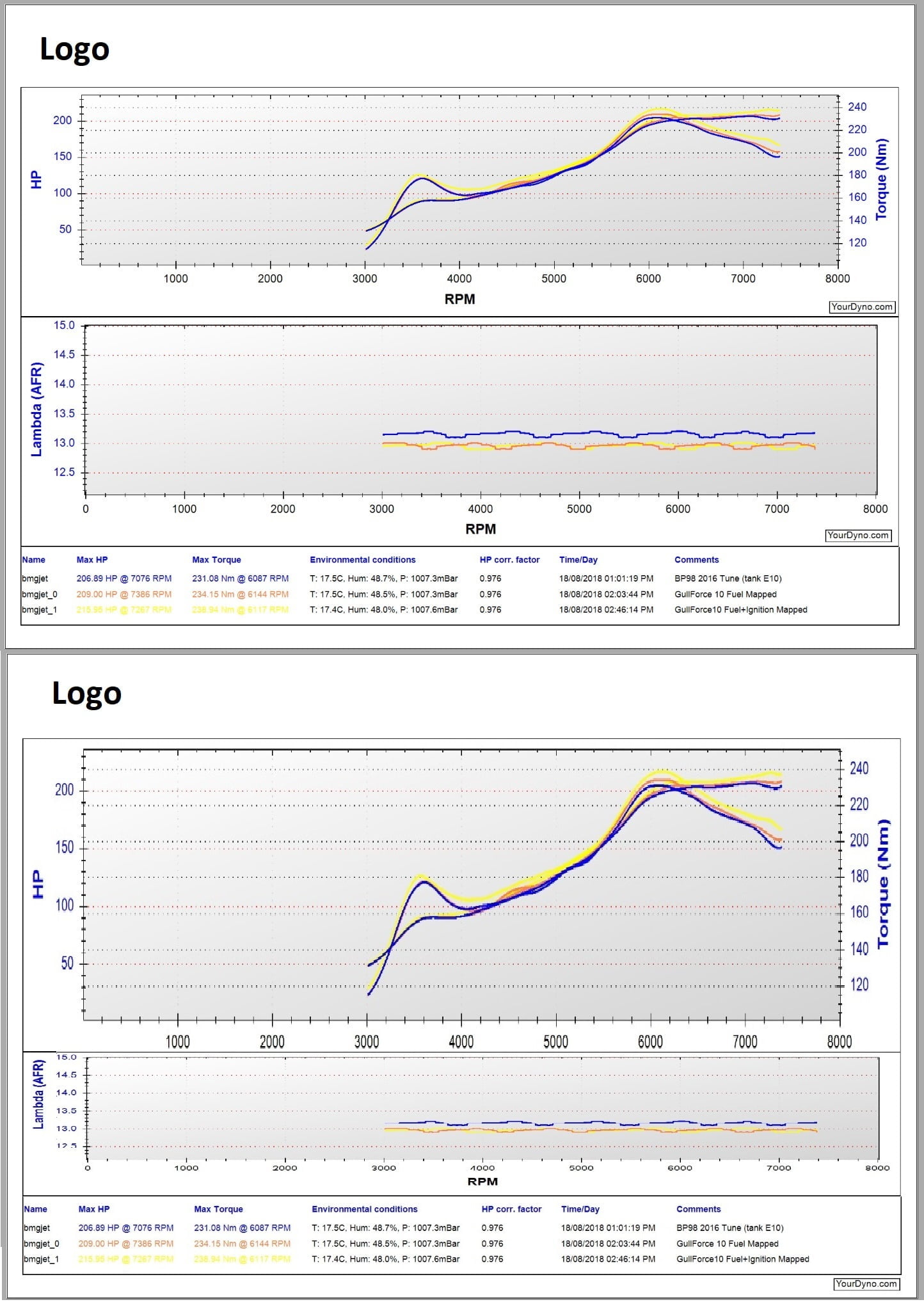 Posted : 18/08/2018 12:41 pm
Bmgjet, that's good improvements you suggest, and easy to implement. I will add it to the list. 
Posted : 18/08/2018 6:37 pm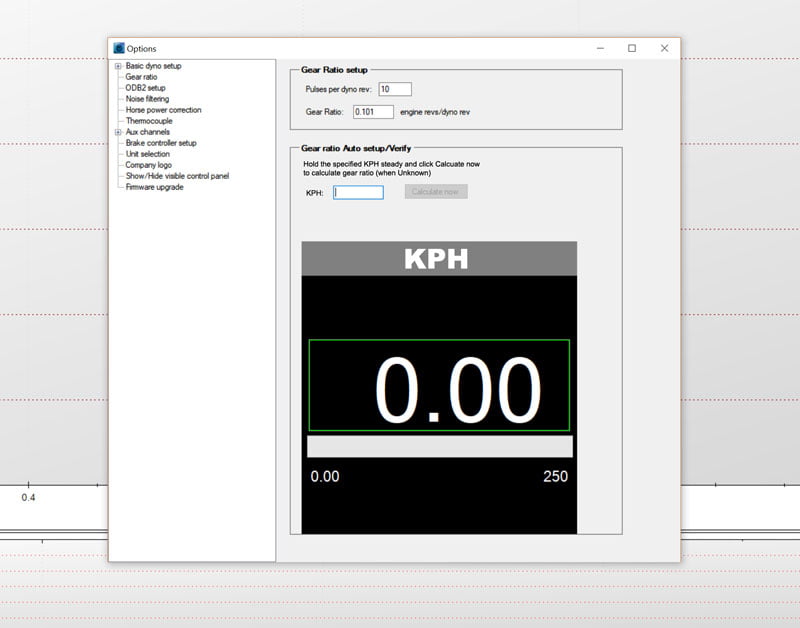 Posted : 22/08/2018 3:38 am