YourDyno Power Supply mains requirements? USA
Hello, I'm new here.   I'm going to be converting my single brake dyno to YourDyno system.   I have purchased the controller and the power supply.  The YD PS documentation states 220-240V.
Should I wire the box as L1, L2, Earth?  This would give me approx 240 split phase here in the USA.  This will be on a dedicated circuit, so which size breaker should I account for?  My brake is a 96V unit, from what I have read.
Thanks for the help!
Topic starter
Posted : 28/12/2021 8:16 pm
Hello and welcome.
Yes, the power supply will not work well on the 110-120V AC that you get in the standard US wall outlets. You can use two "hot" phases like you say and get 240V, which is what YourDyno power supply needs. Safety ground should be connected too, or any connection to make sure the ground fault circuit interrupter trips if there is any ground problem in the brake (quite common on old brakes) or brake power supply. A local electrician should be consulted.
There are loads of YourDyno Power supplies running in the US, so it is not a problem to connect it up. 
Your brake can be rewired to 192V. You should do that to lower the current and get more smooth operation. Attached is a doc showing how it is done (easy!).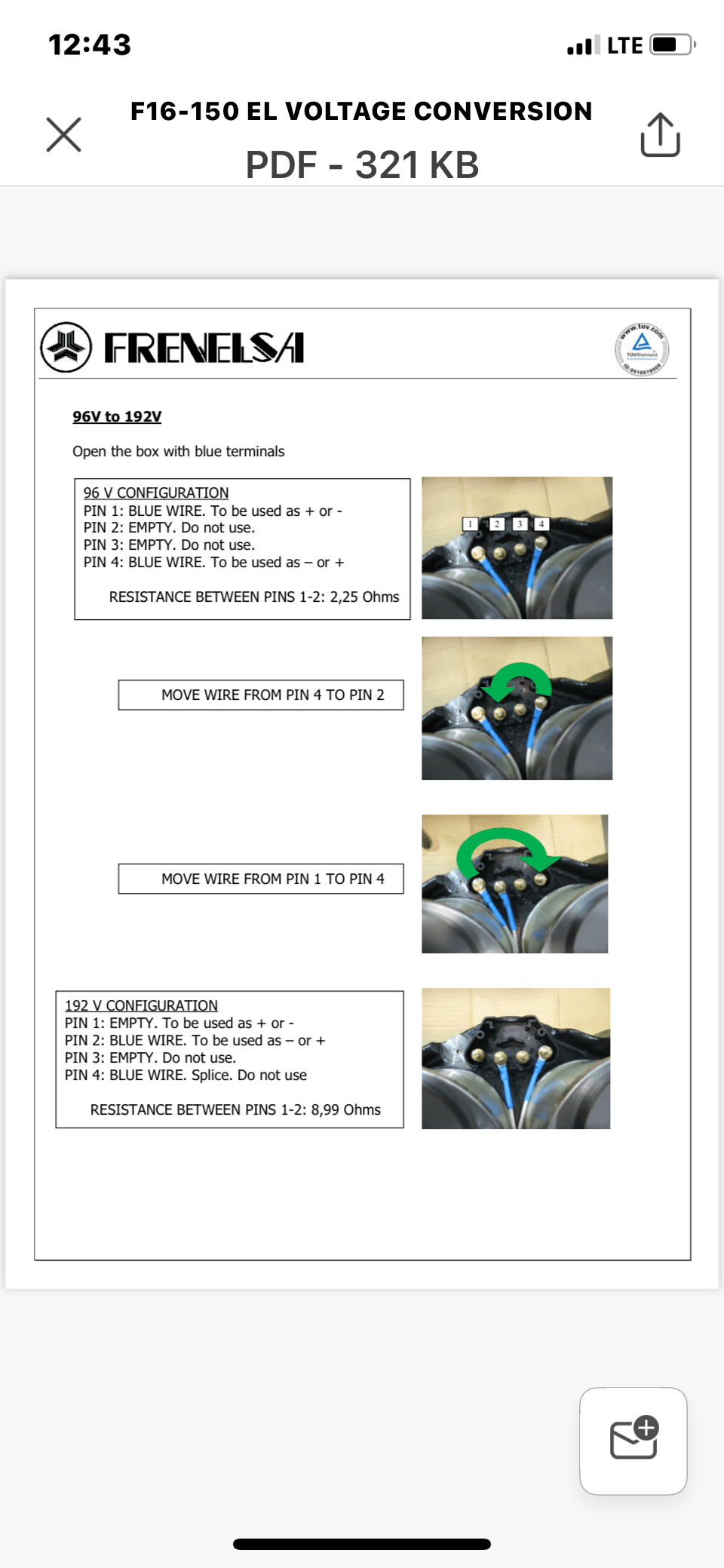 Posted : 28/12/2021 9:06 pm
@admin what is the benefit of rewire to 192v?
It is my understanding these need to be rewired in series? I don't have pins 2&4.  I can still rewire them, but I'm unsure how to be certain of the order. 
This post was modified 3 weeks ago 3 times by
Fierofiend
Topic starter
Posted : 31/12/2021 9:39 pm
I disconnected the terminals and I have continuity on the two red, and on the two blues.  I'm treating the blue as 1 & 3, and the red as 2 & 4.  I will be using wires 2 & 3 to go to the power supply and connecting 1&4 to a common post to connect them together. 
Topic starter
Posted : 31/12/2021 11:08 pm
I finished getting everything wired up this evening and I was able to successfully connect to the power supply via bluetooth, and engage the dyno brake.  I only tested to around 10-12% and I noticed the controller was making a buzzing/humming noise?  Is this normal?  Brake seems to be functioning properly.
I wanted to verify before proceeding further.  Thanks!
Topic starter
Posted : 11/01/2022 3:24 am