Very low cost dynos can be built using a hydraulic brake, as long as the HP is reasonably low, say below 100 to max 150 HP. All you need is a hydraulic pump and an adjustable valve plus associated plumbing/tank. Below you see an example of a hydraulic brake running an earlier version of YourDyno.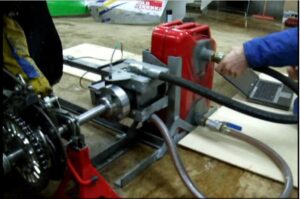 See it in action here.
Here is what you need:
High Pressure Hydraulic Gear or Vane Pump. Click here to learn how to choose the right hydraulic pump.
A Flow control valve (example 1, example 2, example 3). Your valve should be made for fine adjustments.
A high pressure hydraulic hose between your pump and your valve (example).
A car wheel hub bearing (example) or something else that fits your setup to ensure the pump can rotate.
A mechanical rig and a hydraulic tank with fittings and plumbings
Note that the dyno in the video only has a (car hub) bearing on one side of the retarder. The axel bearing of the kart being tested serves as the second bearing. More details on this hydraulic brake here!
In the video above you see the the pump is kept from rotating by an arm towards the front of the car. It is connected to the load cell (part of YourDyno kit). You see the RPM sensor (also included) over the pump flange.
The total cost of the mechanical parts for this dyno was only around $200. It worked very well and was used up to about 85HP.