The Eddy Current brake is a popular professional brake and also more and more used by hobby racers with a bit of a budget. Eddy brakes is the most popular brake among YourDyno users. It is easy to use, does not get worn out, there are no messy water or oil and is easy to control accurately. If you can afford it, Eddy brakes is the way to go! This is unless you will test engines directly on the crank shaft, in which case Water brakes is a good option.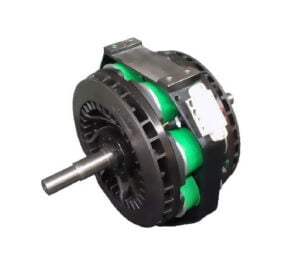 The more current you run through it, the more it brakes. These brakes are very good, but unfortunately a bit expensive (~$1500-$2000 and up for a new unit). You may be able to find a usable brake at salvage yards for buses and large trucks, as some have magnetic retarders, often by Telma. The braking force can be very accurately controlled with Eddy Current brakes. They are normally controlled directly by the dyno software, but can also be adjusted manually with a suitable power supply. See the Eddy Current Brake Control for a Eddy current brake setup with YourDyno.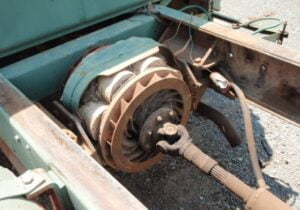 As with the other brakes, the Eddy Current retarder needs to be mounted such that the load cell prevents the retarder from rotating around its axis. You need two pillow bearings, one on each side of the brake.